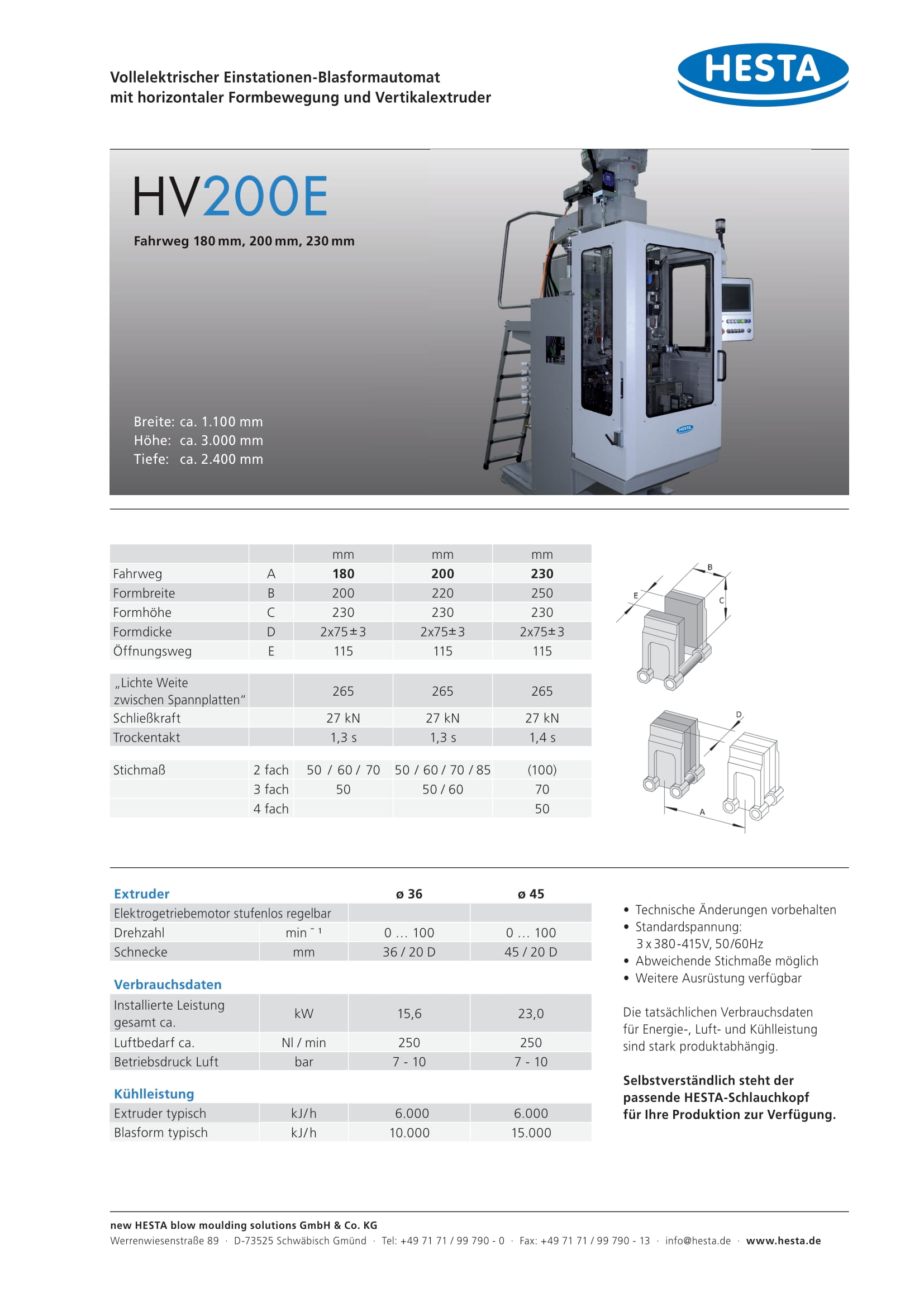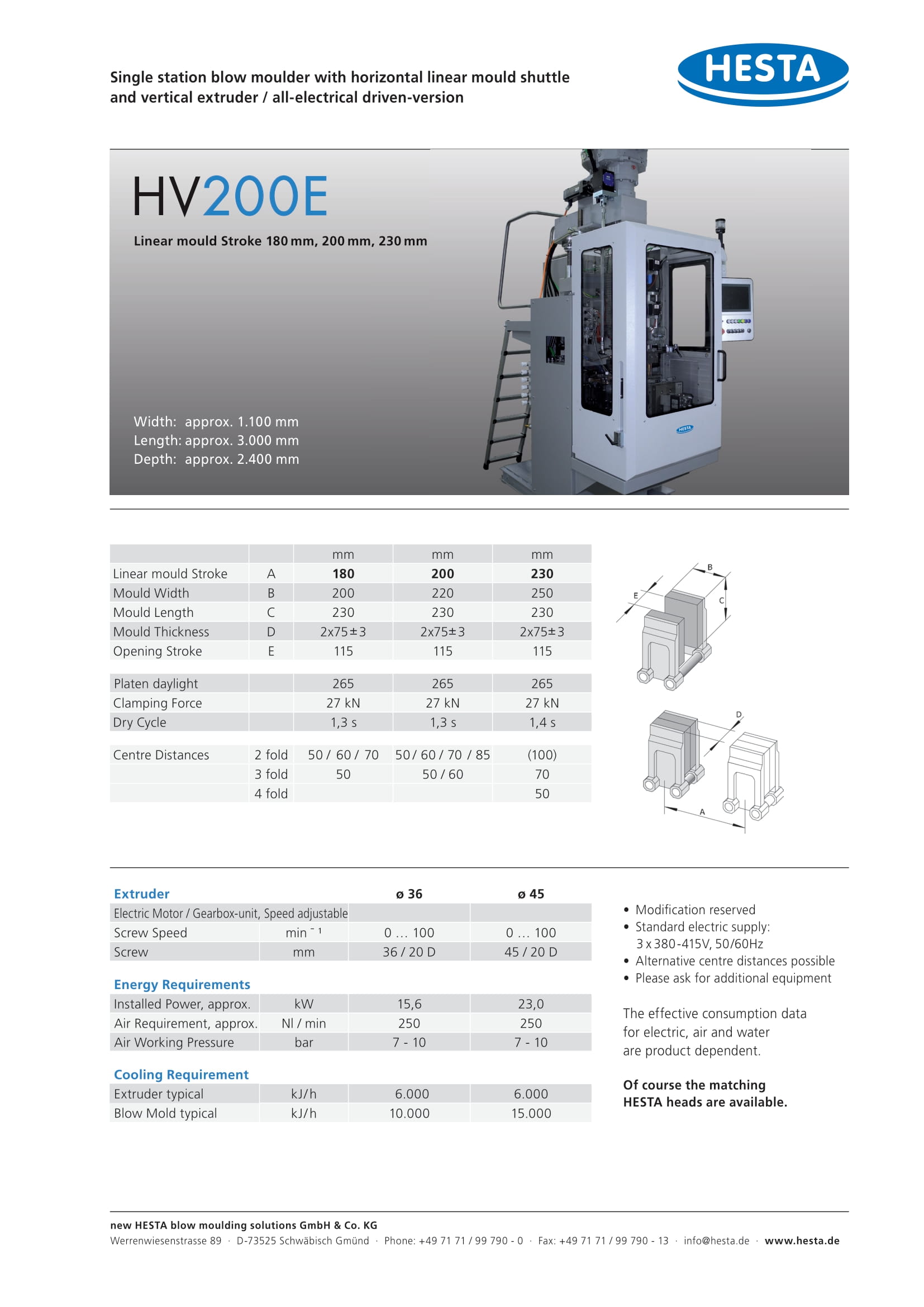 Detailed description
The HV series of new HESTA blow molding machines are designed for small hollow bodies and also for small batch sizes. Short changeover times result from the quick-change system for the blow mold, through the simple exchange of screw and parison head. Due to their small footprint, the installation of several machines side by side is possible, whereby the feeding of new material and the transport of hollow bodies as well as waste can be automated in a cost-effective and simple way.
Economic characteristics:
High production output
Precise and reliable way of working
Low acquisition and operating costs
Low investment for blow molding
Use HS Molds, HS Hose Heads, HS Screws
Easy operation and maintenance
Quick change of blow molds
Clean separation and safe discharge of waste
Material savings through use of the wall thickness control system
Small and large series production through expansion to production lines
Trouble-free processing of all thermoplastics, including PVC, powder or granules
Long service life due to the use of proven components and high-quality materials
Technical features:
Compact and service-friendly machine design, narrow front for installation in production lines, low space requirement only about 2 sqm
Vertical extruder with longitudinal tube head Processing of thermally sensitive plastics much easier compared to diverting or angle heads
Mature machine design combining many years of experience
Electric crank drives for the complete machine offers:
for the mold closing system fast movements, high closing force and finely adjustable closing delay;
during the blowing process, an exact shaping of the calibrated bottle necks and high calibration force;
great economy and operational safety
The unique extruder drive is not only energy-saving but is driven by four individual motors. This allows easy replacement of a single motor, and also enables emergency operation or operation at reduced power with simultaneous repair of a single motor.
Control cabinet with clear layout, and easy access to all parts
Easy access to mold closing system, hose head and calibration device shortens changeover times
Shortest distances between extruder and blow station and during die closing result in minimum dead times and maximum cycle rates
A photocell monitors the hose length and inputs deviations into the wall thickness regulation. The photocell can also be used without wall thickness regulation, especially for very long and heavy preforms, and produces exact hose lengths in a fully automatic work cycle.
The vertical extruder:
The vertical extruder with longitudinal die head gives optimum material flow without deflection, excellent accessibility and minimum space requirements. The extruder can be easily adjusted in all 3 planes and allows reliable material feeding of all blowable thermoplastics from the hopper to the extruder through a connecting pipe at a steep angle. The raw material, in powder or pellet form with or without regrind admixture, is safely fed to the extruder. This results in a uniform material feed to the screw. Screw-on mixing or shearing parts for screws to optimize homogeneity and dispersion of certain thermoplastics round off the portfolio By installing an automatic screw speed control, the cycle is kept constant. Optionally, 20-D extruders with 36 or 45 mm diameter can be used. A photocell ensures that the tube length is determined. For PE processing, a screw with mixing section is used. For PVC processing, screws with internal cooling and cooling fan on the extruder are used. The unique extruder drive is not only energy saving but is driven by four individual motors. This allows easy replacement of a single motor, and also enables emergency operation or operation at reduced power while repairing a single motor.
Hose heads:
The hose heads are equipped with twin mandrel holders for processing thermally sensitive materials (PVC) or highly transparent materials (PETG) and with offset mandrel holders for polyolefins with demanding flow characteristics. Single, double, triple and quadruple hose heads are available, also with nozzle adjustment device. Vario hose heads for visible stripes or DeCo2 round off the concept.
Hose knife:
Cold and hot cutting systems are available for cutting the hose, these are pneumatically driven, but can also be extended by our unique electric high-speed knife. With a speed of up to 12 m/s, this knife cuts the hose before it is affected. This reduces the folding of the hose to a minimum. The portfolio is completed by our hose closing and cutting device with controlled supporting air.
Blowheads:
Calibration is performed electrically with a maintenance-free crank drive with 13kN calibration force. The universal blow head is safely guided on both sides; the patented calibration cushion ensures simple 0-point calibration of the blow pin height to the knock-off edge in the mold, and reproducible set calibration force with each cycle. Mandrel height adjustment centering the mandrels to the mold opening is very easy to perform. The blow pins can be water cooled to the tip. It is also possible to provide for inclined calibration.
The locking system:
The open C-frame clamping system with two tie bars at the bottom has a continuously adjustable clamping force up to 27 kN and is also driven by a maintenance-free crank drive, as well as adjustable mold opening travel. The tie bars are not subject to any bending stresses and therefore provide precise guidance of the clamping platens. A unique feature is the recirculation of the cooling water through the tie bars themselves. The patented clamping cushion allows you to calibrate the mold thickness of +- 5 mm fully automatically, the clamping force can also be optimally adjusted to your article in the set-up mode. Human error adjustments are excluded with new HESTA. If the machine detects a minimal deviation during production, it immediately performs an automatic set-up and adjusts the clamping force. The blow mold is freely accessible. The lightweight design results in low masses and thus short cycle times. Two separate cooling circuits are available in each clamping platen. The integrated cooling circuit connection through the clamping platens not only makes a major contribution to quick changeover, but also eliminates the possibility of missing connections.
Courted transportation:
The blown articles are removed from the blow mandrel by masks attached directly to the blow mold and transferred to the downstream station in one plane, eliminating the need for alignment and setup and saving extreme setup time. With double masks, a further downstream station (e.g. for leak testing) can be served. During transport, the hollow bodies are cooled down well and the output rates are increased. Neck and base slugs, as well as handle waste, are removed by pneumatic punching cylinders.
E-drives and pneumatics:
Energy-saving servo drives supply the extrusion unit, the shifting and closing movement, and the calibration. The associated servodrives from Beckhoff always correspond to the latest generation and enable economical production by optimally adapting the energy consumption to the utilization of the machine. The pneumatics control the functions blowing, cooling, transporting. Punching and ejection with proven, sophisticated elements. The standard pneumatic valves are arranged on a central base plate for easy servicing.
Control cabinet & control system:
The electrical control cabinet is vibration damped, easily accessible and service-friendly mounted on the machine. The programmable logic controller with front panel meets the highest demands for reproducibility, simply, safely and clearly. It allows individual input of all set values for the motion sequence, heating and wall thickness control, and the integrated bottle tester. An internal background memory facilitates setpoint optimization. All entries and fault messages are displayed in plain text. The warning and monitoring systems included in the basic equipment control the entire machine sequence. In the basic version, four authorization levels protect against unauthorized inputs; personalized login can also be enabled as an option. Inputs and all fault messages are recorded for process tracing. For easy operation, two monitor sizes are available depending on the machine type. The color 12 and 21 inch touch panels are directly connected to the Windows based modular control system. Any number of setpoint records can be stored on an internal memory or conveniently on an external memory via a USB socket. This shortens changeover times, especially for small batch sizes, and increases cost-effectiveness. All common languages can be switched easily and quickly. Preparation for online service is a matter of course for us and easily possible by means of pre-installed software.
Additional devices:
Additional devices complete the HV program:
The electronic wall thickness control with maintenance-free crank drive allows the wall thickness to be pre-programmed with 100 points over the entire tube length, with the timing automatically adapting to the cycle time of the blow molder.
The fully automatic production of wide-necked containers is carried out by circular cutters with optional electrically or pneumatically operated revolving knife for removing the lost head outside the mold in the trimming station, whereby horizontal or vertical cutting is possible.
The fully integrated bottle tester is used for leak testing and neck inspection. This can optionally be extended by a neck passage test. Bad articles are thus not even transferred and fall directly onto the slug waste conveyor. Since 100% tested bottles are transported out of the machine, complaints about leaking bottles at the end customer are a thing of the past.
Contact us
Do you have any questions?
new HESTA blow molding solutions GmbH & Co. KG
Werrenwiesenstrasse 89
D-73525 Schwäbisch Gmünd
info@hesta.de
support@hesta.de
Phone +49 (0) 71 71 / 99 790 - 0
Fax +49 (0) 71 71 / 99 790 - 13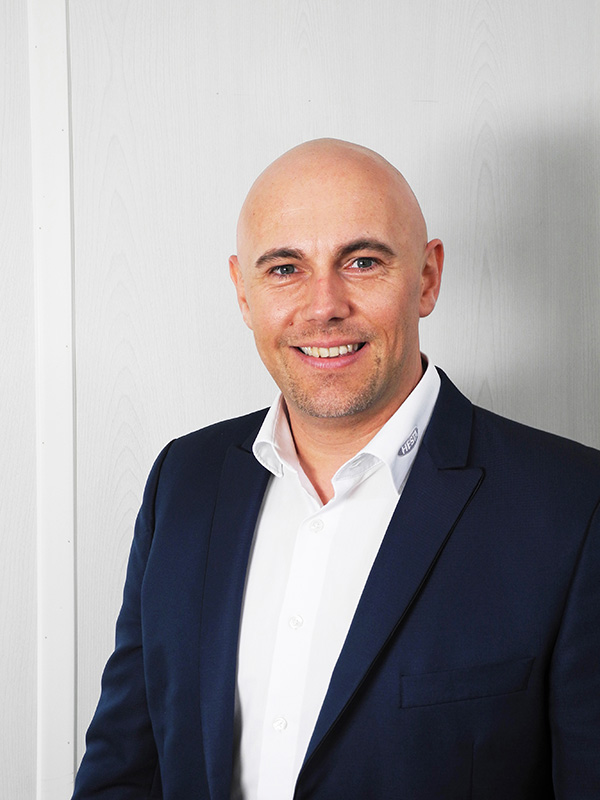 Deputy of the management, technical manager, key account